Mary-Cassie Shaw, MD, FAAP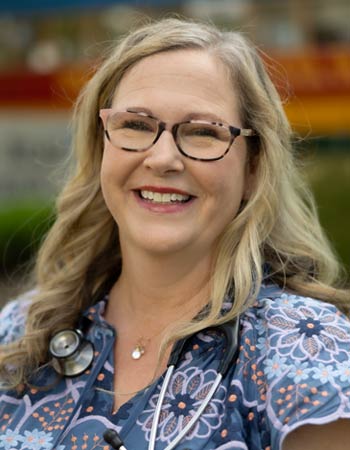 Dr. Mary-Cassie Shaw is a native of Raleigh, NC. She is a graduate of Needham Broughton High School ('87) where she was elected vice president of the student body during her senior year.
During her college years, Dr. Shaw became interested in a career in medicine after volunteering in play therapy with children on the Burn Unit at North Carolina Memorial Hospitals. Before entering medical school, she worked at the Philadelphia Zoo and did research in a Venezuelan rainforest. While attending medical school, she was very active in student government and served as her class's vice president. She also enjoyed working in the homeless shelter clinic and serving on the medical school admissions board. While in medical school, she spent one summer studying parasitology at the medical school in Costa Rica.
Upon completing her dual residency in pediatrics and internal medicine, Dr. Shaw joined Triangle Community Physicians in Durham, NC and practiced both pediatrics and internal medicine. While practicing in Durham, Dr. Shaw realized she wanted to become a pediatrician and practice "until I am an old lady". Being a Raleigh native, Dr. Shaw decided to return to her hometown and joined Oberlin Road Pediatrics in January 2003.
Bringing her Internal Medicine background to ORP, she greatly expanded the adolescent care including mental health and gynecological services.
Since joining ORP, Dr. Shaw served as the Medical Director at St. Mary's High School from 2006 to 2010 and again in 2018 to current. In 2004, Dr. Shaw was appointed by Governor Easley and later reappointed by Governor Perdue to North Carolina's Child Care Commission. She was honored to serve on this commission for approximately six years. She served as Lead Physician at Oberlin Road Pediatrics from 2017-2021.
When not practicing medicine, Dr. Shaw enjoys yoga, being with her family, baking, gardening, and travelling. She loves anything French and is a pianist. She and her husband have three daughters.
Fun Facts About Me
In college, I had a pet tarantula named "Samantha" after working at the Philadephia Zoo.
I can identify birds by their song.
I can do a headstand and a split.
Certification
Education
Residency: Internal Medicine & Pediatrics, University of Alabama at Birmingham, Birmingham, AL, 1996-2000
Medical School: East Carolina University Brody School of Medicine, Greenville, NC, 1992-1996
Undergraduate: Bachelor of Science in Biology, Bachelor of Arts in French, minor in Chemistry, University of North Carolina, Chapel Hill, NC, 1987-1991
Professional Organizations & Affiliations
Languages Spoken
Related Links