Thomas Bodenstine, MD, FAAP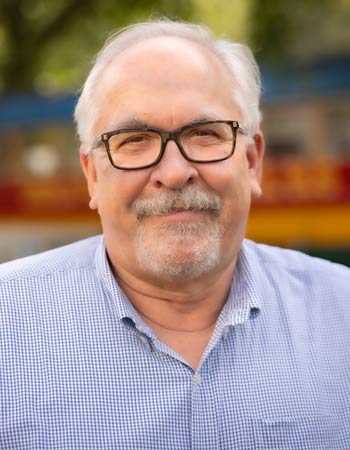 Dr. Thomas Bodenstine, "Dr. Bo," grew up as the third of six children in a devout Catholic family in Philadelphia, Pennsylvania. He discovered at the young age of ten when he started his first flower garden that he was interested in learning how living organisms flourish and grow. His father's career path led the family to move to Chattanooga, Tennessee, when he was a teenager where he later attended the University of Chattanooga for Biology. After graduating, he worked in the agriculture field for 10 years before deciding to pursue his calling into the field of medicine. He taught fourth grade at Holy Trinity Catholic school while completing his prerequisites to enter medical school at Eastern Virginia School of Medicine in Norfolk Virginia.
After completing his residency at the Children's Hospital of the King's Daughters, Dr. Bodenstine moved to Raleigh with his wife, Cissy, who is a Raleigh native, and their three kids. He has been part of the Oberlin Road Pediatrics family since 2000, for which twelve of those years he held the position of lead physician.
Dr. Bodenstine finds that practicing pediatric medicine offers a privileged opportunity to help our patients establish a solid foundation for making good choices about their health at a very young age. He recognizes that with the brief time he gets to spend with his patients, there must be an excitement and an urgency to his guidance and the encouragement to help motivate children to choose their path to good health.
Dr. Bodenstine and his wife of over 40 years are blessed that all three children and their families, including seven grandchildren, live in the immediate area and share lots of time together. He enjoys playing golf and fishing in his spare time.
Fun Facts About Me
When I was sitting in my first class my first year of medical school, I was 39 years old with a wife and three kids at home.
When studying as an undergraduate in Southern California, I worked at Disneyland as part of the team providing security for Minnie and Mickey Mouse, Donald Duck and Goofy.
I have won the North Carolina State Fair blue ribbon award for our family artichoke relish three times for the past 10 years.
Certification
Education
Residency: Pediatrics, The Children's Hospital of the King's Daughters, Norfolk, VA, 1998-2000
Internship: Pediatrics, The Children's Hospital of the King's Daughters, Norfolk, VA, 1997-1998
Medical School: Eastern Virginia School of Medicine, Norfolk, VA, 1994-1997
Undergraduate: Bachelor of Arts in Biology, University of Tennessee at Chattanooga, Chattanooga, TN, 1980
Professional Organizations & Affiliations
Fellow: American Academy of Pediatrics
Member: NC Pediatric Society
Member (former): Pediatric Executive Committee, Rex Hospital
Chairman (former): Pediatric Executive Committee, Duke-Raleigh Hospital
Chairman (former): Department of Pediatrics, Wakemed Health and Hospitals
Honors & Awards
Holmes Gillette Graduate Award 1997: "The Student Who Best Exemplifies the Ideals of the Eastern Virginia Medical School" (the highest honor presented by the school)
Charities
Oak City Cares - Raleigh
Susan B. Komen Race for the Cure
Languages Spoken
Related Links