Suzanne Vining, MD, FAAP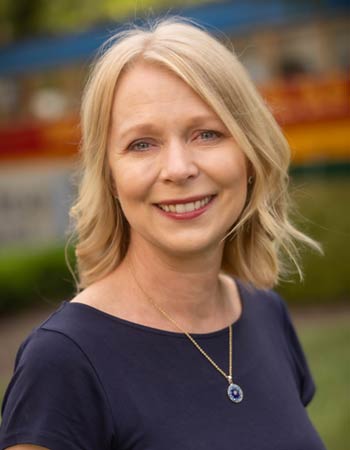 Dr. Suzanne Vining was born in Minnesota but grew up in Winston-Salem, NC. The daughter of a hospital pharmacist and a pharmacology professor, she grew up in a medical household; however, Dr. Vining knew she wanted to provide care for patients directly. As a pediatrician, she enjoys her role as teacher, educating families on establishing healthy eating habits, disease prevention, and normal childhood development.
After completing her education and marrying her active-duty Army husband, Dr. Vining and her family moved frequently at the discretion of Uncle Sam. She has practiced community pediatrics in Washington State, Germany, and Georgia. The couple returned to Seattle in 2010 for one year, where Dr. Vining honed her skills working in the Seattle Children's Hospital Emergency Department. In 2011, they were free civilians and could finally come home to sunny North Carolina, and Dr. Vining joined Oberlin Road Pediatrics.
Because of her husband's Army service, Dr. Vining especially cherishes providing care for children of military families. Her clinical interests include dermatology (she says, "I love a good rash!") and guiding the socio-emotional development of young children. She focuses on the individual goals of each patient and family to direct the treatment course.
Outside the office, Dr. Vining loves all things "food" including restaurants, cookbooks, and reading about culinary history. She is a skilled cook and enjoys cooking for family and friends. Dr. Vining has one son and two stepchildren who are wonderful, functional adults (hurrah we did it!).
Fun Facts About Me
I held the odd job of boxing cigarette-themed merchandise in Winston-Salem.
I can drive a fork lift.
I collect cookbooks and have one dated 1875.
Certification
Education
Residency: Pediatrics, Seattle Children's Hospital, Seattle, WA, 1999-2002
Medical School: University of North Carolina, Chapel Hill, NC, 1995-1999
Undergraduate: Bachelor of Arts in Spanish with a minor in chemistry, University of North Carolina, Chapel Hill, NC, 1990-1994
Professional Organizations & Affiliations
Honors & Awards
Languages Spoken
Related Links